Custom Profile Module – Create A Profile With Custom Fields For Customer To Fill In On Signup
This product is sold by one of our partners. The support is provided by this vendor directly. You will get his support access in the purchase receipt email.
Overview
Custom Profile is a powerful module for Siberian CMS  that allows you to profile users by using custom fields. You can choose to create the following types of fields: text, Multiline text, radio, checkbox, email, date etc
Push Notifications Topics – Let user subscribe for a topic on signup  ( visible only on a mobile device)
User Roles – User can select Roles on signup using Padlock Pro module
– New Fields Added
1. Birthday Field
2. Anniversary – For Birthday/Marriage Anniversary etc
3. Telephone – International Mobile Number with country codes
4. User Roles
5. Push Topics
— UI improvements to show label and text field in a row
— Bug Fixes for Smartly Disabling the module if a form is not yet created.
Features
Add a Section with Fields and Manage Profiles Options.
Integration with Push topics and Padlock Pro Module – Can be used as a smart user onboarding.
After new signup user redirects to CUSTOM PROFILE Page to update his/her Profile.
Create Text, Multitext, Email, Number, Date/Hour, Checkbox and Radio Button, Dropdown list.
Old Created users will get redirected on the login for the first time to fill in the profile detail.
It locks the Profile page after signup to make it mandatory for the customer to fill in at least required field mentioned by App admin.
It's an awesome module which can give real meaning to your customer's data.
Export Profile/User data as CSV
Switch View to See profile data
Smart Menu On/Off –
Activated Feature – Menu Visible and Force Redirect on Signup
Deactivated Feature – Menu is hidden and Force Redirect on Signup
Delete Feature –  Deactivates this module completely
How To Use
1. Go to Features, Select  Profile Module.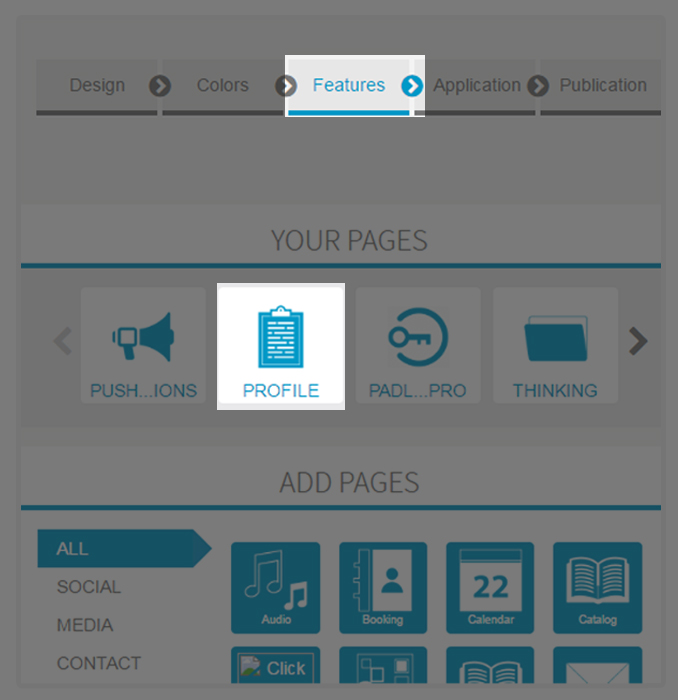 2. Create a Section and Field for Profile.
3. When the user logs into the app using  Profile Module he/she will be automatically redirected to Profile Page.
4. As App Admin – You can login as customer and change/see users profile data.